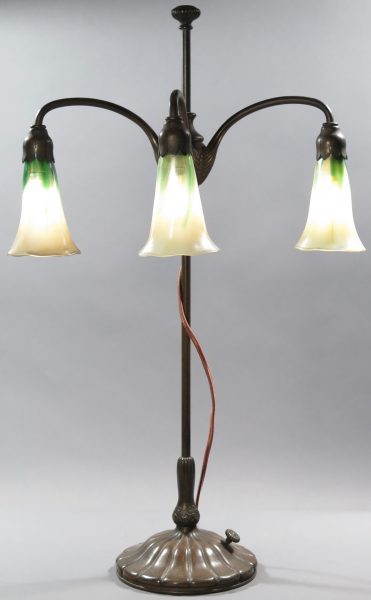 Tiffany Studios Adjustable Three Light Lily Table Lamp
Description
This early 20th century Tiffany Studios, New York patinated bronze table lamp consists of a stem w/ a vertically sliding three armed element. Each of these arms ends in a shade holder with a hand blown lily shape favrile art glass shade. In addition to the ability to change the height of the shades, the arms are able to pivot as a unit, left & right. The lily shades are decorated with stylized green leaves against an iridescent ivory background.
Signatures
Base: Tiffany Studios, New York,  D743 & bears the "Glass & Decorating Co." logo
Shades:  Two signed L.C.T., One unsigned but guaranteed to be from the Tiffany Studios, New York. This shade has an internal "crack" near the fitter.
Dimensions
Overall: 23 1/4″ tall X 12 1/2″ wide X 9 1/4″ deep